Jargon vs Speaking Plainly
April 10, 2023
Procrastination – ADHD Style
June 8, 2023
Some meetings are terrible, right? There's a reason there are so many memes saying "Survived another meeting that could have been an email." But there are other meetings you walk away from feeling like it was productive, helpful, and gave you momentum in the right direction. What makes the difference?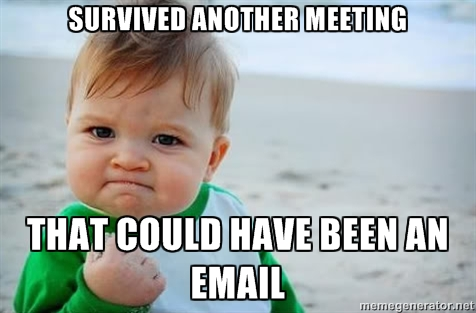 I spent some time diving into what makes a successful meeting and here are a few tips I've gathered:
1. 
Agendas
: ALWAYS have an agenda and send it out prior to the meeting, this gets everyone on the same page and thinking in the same direction. It gives the meeting PURPOSE. If participants read over the agenda, they may already come with solutions to the problems presented. And no one is surprised with what they need to do. This allows for open communication and for thoughts to develop fully before the meeting even takes place. 
I've noticed when we have agendas, meetings often end sooner and we leave with next steps in mind. It makes for a much more productive meeting. Productive meetings will get everyone on the same page, the purpose fulfilled. We'll walk away with answers to the questions on the agenda and have next steps because of it. 
One thing I try to make sure of in my agendas is that I'm not the only one speaking. This allows people in the group to feel like they have a place in that meeting, not just as a passive listener. Ask questions, do things that will prompt questions from the group. Make sure that you give purpose to the things you have on your agenda, then ask probing questions. "We are talking about this because…How will you use it in your work?" This gets members of a group to actively participate instead of secretly doing client work while only half listening.
2. 
Time
: Most people plan their day around meetings. It's OK for a couple of minutes of chit-chat to happen (5 tops), but then get right into it. This shows respect for the people in attendance and makes sure that the meeting can end on time (also important). 
When planning a meeting where other people will be training, give them a timeframe. This helps them set expectations and fit what they're saying into the overall meeting purpose and timeframe. 
Having a timeframe also allows the people in attendance to understand they need to focus on the information on the agenda so they can get done on time. If you can tell a particular agenda item is going to take longer than you carved out, let everyone know, ask them to prepare for it, and set aside a time to fully address it. Again, this shows respect for those in attendance and allows people to fully form their thoughts on the subject without making everyone wait for them to process it.
3. 
Action Items
: Meetings should always have something that an attendee will go away needing to do. Make sure that they know WHAT they need to do and WHEN it  needs to be done. Then follow up in that timeframe. 
In meetings, my notes always have 2 columns. The column on the right is informational. In the smaller column on the left, I write POA at the top. Underneath that is my Plan Of Action. What am I going to do with the information presented? This allows me to not only remember what was told to me during the meeting but also reminds me of what I need to do about it. I would encourage you to have your teams take notes in a similar fashion. That way they'll stay focused and will also have their own action plans afterward. 
Your job as a meeting facilitator is to recap after a meeting at least with an email, and at the end of the meeting in voice if you can. Remind people they are going to do WHAT by WHEN.
And here's a quote, because quotes add validity to what I am saying 
:
A meeting helps every individual understand both the collective aim of the group and the way in which his own and everyone else's work can contribute to the group's success.
And here are some articles that dive into it (the Forbes article asks some great questions, I would recommend reading that one first):
Enjoy your next meeting!